The Fight to Repeal NC HB2: Turning Lemons into Lemonade
May 4, 2016
Like many people, I have been obsessed with Beyoncé's visual album Lemonade since it premiered on HBO. As a Black woman, it was beautiful to be surrounded by so many images, ideas, lyrics, and sounds that resonated with my experiences in Black families. As a Southern activist, lemonade has now taken a completely different meaning for me.
The day Beyoncé's album premiered, I was training people of faith on how to utilize the power of their own stories to make change. The last few weeks I've been working to organize and mobilize clergy and people of faith in North Carolina to stand up against discrimination enshrined into law by HB2. I've heard the righteous anger about HB2 from people in Charlotte, Durham, and Raleigh at faith events. They, like many others, are insulted that the North Carolina legislature and Governor would, using the transgender community as a scapegoat, pass a law that repealed discrimination and worker wage protections while gutting the ability for workers to defend themselves against employment discrimination in state courts.
As I watched Beyoncé in her video take her bat and smash the city of New Orleans while singing the words, "Hold up, they don't love you like I love you…what a wicked way to treat the girl that loves you," I thought of the Southerners who continue to live in places that actively seek to deny us our humanity and dignity. I thought of the protests that have followed my brothers and sisters being slain openly in the streets by the state with no justice. I thought of the blood shed by my ancestors who built this country through slave labor. I thought about my immigrant friends and their families, whose labor has been used almost for free. I thought about how all our families have struggled for a taste of freedom, freedom that people like Donald Trump and Ted Cruz wish to deny them.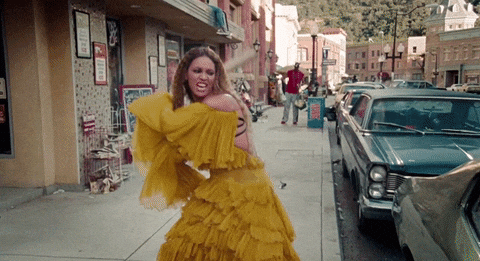 Many of us have had moments where we wished we could take out our anger on a system that works against victims of state violence anti-trans violence, on streets that divide the haves from the have-nots, and on restrooms, access to which has been denied to many trans people. As much as the South has hurt us, we love the South; and because of that love, we stay in the South.
For me, hearing the lyrics "When you hurt me, you hurt yourself," from the song "Don't Hurt Yourself" evoked the reality that, when a community of people are marginalized and oppressed, society as a whole fails. Listening to Beyoncé, I found my mind spinning at how all of our lives are connected, and that in trying to separate our lives from theirs, conservative politicians are losing out on God's most precious gift: the diversity of creation. In signing HB2 into law, Governor McCrory not only hurt the communities targeted by the law, but so many others. In just one month since the bill became law, the state has lost hundreds of millions of dollars, thousands of jobs, and according to the polls, everyone in North Carolina will soon be putting their middle fingers up and telling their governor "Boy, Bye."
For me, the chapter headings in the Lemonade video, which detail the eleven stages of grief—intuition, denial, anger, apathy, emptiness, accountability, reformation, forgiveness, resurrection, hope and redemption— resonated with the fight for justice in the South, specifically that around HB2. In North Carolina, even as the special legislative session was called for the purpose of passing HB2, many in our community were in denial that it would actually become law. Once it did, there wasn't much time for apathy and emptiness. Our side was marshaled for a long march toward accountability for politicians. Our actions on Monday, April 25—which began with a press conference delivering nearly 200,000 petition signatures to repeal HB2, also included two rallies, a speak out, and ended with a symbolic sit-in at the state General Assembly. The actions on April 25 were just the beginning of a series of actions organized to push for the repeal of what has now become known as "Hate Bill 2." Recently, the Governor of Georgia made a different decision than Governor McCrory by not signing a bill similar to HB2—a decision that allowed for there to be reformation, forgiveness (to some extent), resurrection, hope, and redemption. He followed the rules of his faith and made a determination that those rules did not include discrimination against any group of people. In this decision, Georgia began to turn away from its dark past.
In North Carolina, the path to redemption for the leaders who voted for and signed this bill into law is narrow, and ends in two months at the close of the short session. Advocates across our movement, fighting for justice for all, are getting in "Formation" to repeal HB2 and to replace it with strong non-discrimination protections that are inclusive of LGBTQ people. If that is not turning lemons into lemonade, I don't know what else is. If forgiveness and redemption are truly possible, they will be from the heart of Joseph espoused in Genesis 50:20, "as for you, you meant evil against me, but God meant it for good, to bring it about that many people should be kept alive, as they are today." The lemonade that we are making in North Carolina will hopefully not only finally bring LGBTQ inclusive non-discrimination protections, but also increase public education, support, affirmation, and awareness regarding the transgender community.
Whether repeal of HB2 happens in the short session or as a result of Election Day in November, freedom from HB2, like in Beyoncé's song "Freedom," is coming because we know that our community is resilient and that our Creator intended for all of her children to be free to be who she created us to be. King Bey agrees. She has recently come out in opposition to HB2. So has the federal government. Yesterday, the US Department of Justice gave North Carolina until Monday to stop implementing or complying with significant aspects of HB2 or else nearly a billion dollars' worth of federal funding would be at stake. While we hope those significant aspects of HB2 are voided, we know the rest of the law is just as bad for other marginalized and oppressed communities. We will keep on fighting for full repeal of the law because as Beyoncé says "I'ma keep running cause a winner don't quit on themselves."
by Victoria Kirby York, National Campaigns Director, National LGBTQ Task Force